This year marked the 5th anniversary of Houston's TeenBookCon. We had 3 Falcon students that signed up to spend the day with 28 amazing authors…and what an amazing day it was!
Getting henna tattoos before author Laurie Halse Anderson gave the keynote address.
Lots and lots of books!!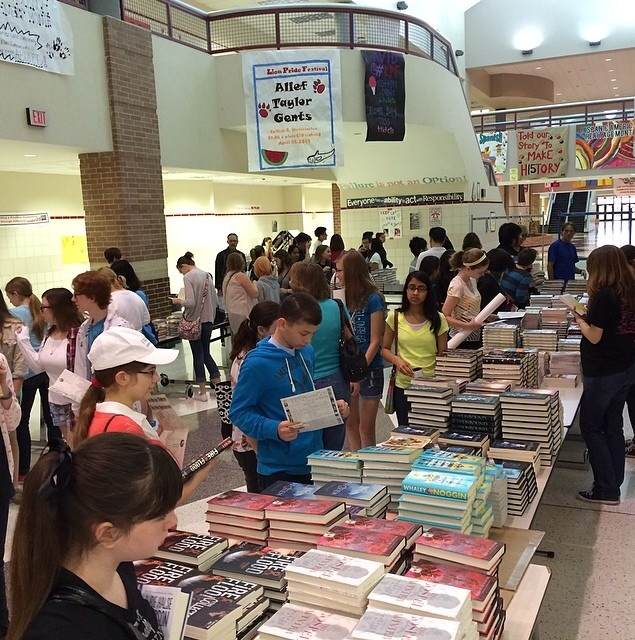 Students were able to attend various panel sessions throughout the day and ask the author questions. I have volunteered at Teen Book Con for years, but this was my first year to actually moderate a panel. I moderated the Crash! Bang! Action! panel with John Corey Whaley, Victoria Scott, Jason Reynolds, Brendan Kiely, and Melissa de la Cruz. These authors were so thoughtful in their responses to the teens' questions. Such a incredible panel!
The fabulous Crash! Bang! Action! panel! Photo by TeenBookCon's photographer, Ann Nguyen.
This was also the first year that I have served on the TeenBookCon committee. I served on the Social Media committee with my Katy ISD librarian peeps: Kim Warwick (Beckendorff JH), Erin Segreto (Cinco Ranch JH), and Amber Baumann (McMeans JH). I am so honored to have worked with these ladies.
We even managed to get #TeenBookCon trending on Saturday! Woo Hoo!
Thank you to Blue Willow Bookshop and all the amazing volunteers that helped bring these authors to TeenBookCon this year! They all changed lives!