I have been eagerly awaiting the delivery of the OTHS library books since I placed the order at the end of May. The 18 wheeler, packed with 26 pallets of boxes filled with library books, arrived at Tompkins HS on Monday, July 15th. Oh, happy day!
It took several hours for the books to be unloaded from the truck and taken into the library.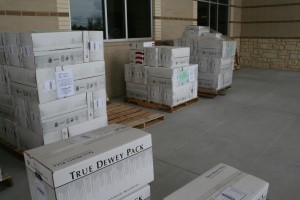 Since the Fire Marshall had not signed off on the library yet, we could not unpack the boxes. So, the boxes were placed on the floor in front of the shelves that they would be placed on later.
I got the call on Wednesday afternoon that the Fire Marshall had signed off on the library and that we could come in and start unpacking. My good friends Laura, Lynette, and Mitzi came up to help unpack…and have a little fun in the process.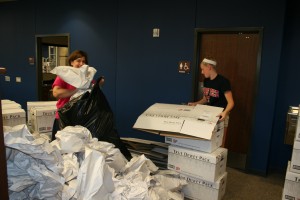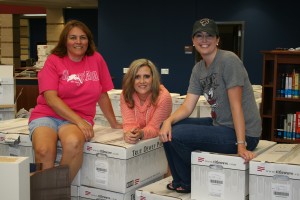 After a lot of hard work…and a lot of sweat…we called it a day. My sales rep, Billy, and I were back on Thursday to finish up the job. I must say that it was worth the wait! Our Tompkins HS Library looks incredible!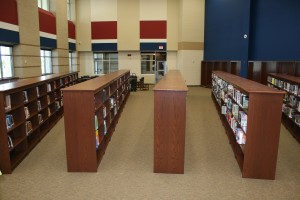 Oh, and I found one of my most favorite books while unpacking! 🙂
I'm looking forward to our Tompkins HS students, staff, and parents to come and visit our amazing BOOK-FILLED library! See you in August!