The annual Texas Library Association conference was held in Fort Worth, TX, this past week. This conference gives librarians a chance to attend sessions presented by other librarians (and authors) on the latest trends and ideas in the library field. I was fortunate to attend this year's conference with many other librarians from Katy ISD.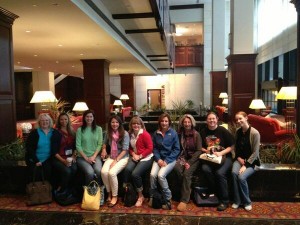 One of my favorite sessions was on the newest titles that have been recently released. One of the many titles I will be adding to our OTHS opening collection is FOX FOREVER by Mary E. Pearson. This is the final book in the Jenna Fox Chronicles. Watch the book trailer HERE.
Besides attending incredibly informative sessions, I also got to attend several luncheons and meet several of my favorite authors.
I attended the Texas Bluebonnet Award luncheon and helped celebrate this year's winner POSTCARDS FROM CAMP by the late Simms Taback. It was such a moving tribute to Mr. Taback.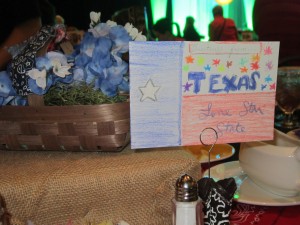 I also had breakfast with Newbery Award winner Jack Gantos and laughed the entire time. Each table had a "Jack head" centerpiece with different quotes and books coming from it. So much fun!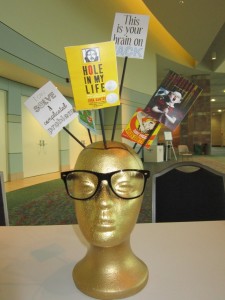 Actor and travel writer, Andrew McCarthy, also spoke at one of the luncheons I attended. I'm looking forward to reading his latest book, THE LONGEST WAY HOME.
One of my favorite things about TLA are the FREEBIES!!! I came home with lots of books that I will be giving away!
One of the highlights of my trip was meeting incredible authors! Here is a picture of me and one of my fave authors, David Levithan! By the way, he will be at Blue Willow Bookshop on Friday, May 10th with author Andrea Cremer to promote their new book INVISIBILITY. Don't miss it!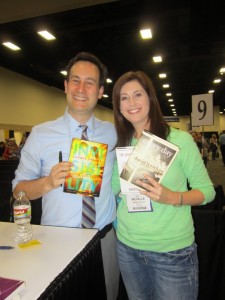 One of my most favorite books (at the moment) is WHERE THINGS COME BACK by John Corey Whaley. I was so excited to see that he was at TLA this year!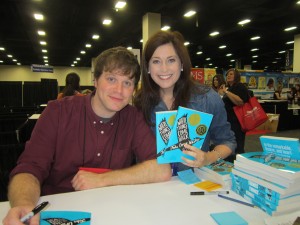 I really did get to meet author Jack Gantos! Funny, funny guy!
I ended my trip by meeting the amazing Neil Gaiman. He is such an incredible supporter of librarians and it shows in everything he says and does. I will never forget this experience. Ever.